2012 Hino 268 Class 6 Edmonton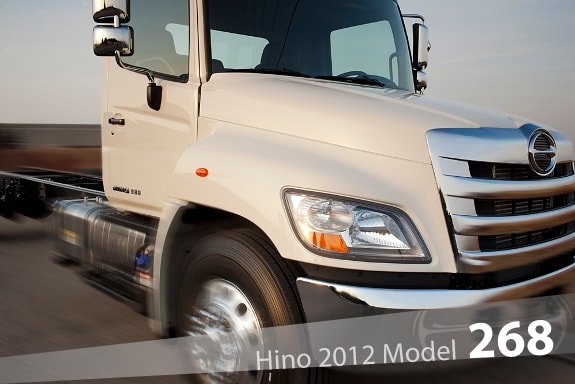 The Hino 268 is designed for dock loading applications and comes with a frame height of 40" over the rear axle. A 10,000 lb. front axle and 19,000 lb. rear axle, including 6 available wheelbases (187" - 271"), make the 268 ideal for applications such as refrigerated bodies, water bottle carriers or heavy freight.
Hino's 7.6L, 220 horse power 6-cylinder, turbocharged, diesel engine provides excellent fuel economy, power, throttle response and legendary Hino reliability. The Hino 268 is equipped with hydraulic brakes with ABS. Optional Hendrickson rear air suspension provides a smooth ride and is ideal for shock sensitive loads.
The Hino 268 offers a 6-speed Eaton FS5406A manual transmission or a 6-speed Allison 2200RDS automatic transmission both with PTO capability.
Hino offers a "clean chassis" option for the 2012 268 model. With nothing mounted to the outside of the frame rails behind the cab, the clean chassis configuration is ideal for beverage body applications and for moving vans.
Complete Specifications on the 2012 Hino 268 Class 6 from Hino Central Edmonton
Specifications on Optional Air-Brake Package for the 2012 Hino 268
Note - By clicking either link above, a new window will open. Simply close the window to return to this page
Interested in a 2012 Hino 268
?

Have questions? Need more information?
Feel free to contact us toll-free 1-888-436-9822 or just fill in the form below and we'll get in touch with you.

Contact Us