2012 Hino 338 Class 7 Edmonton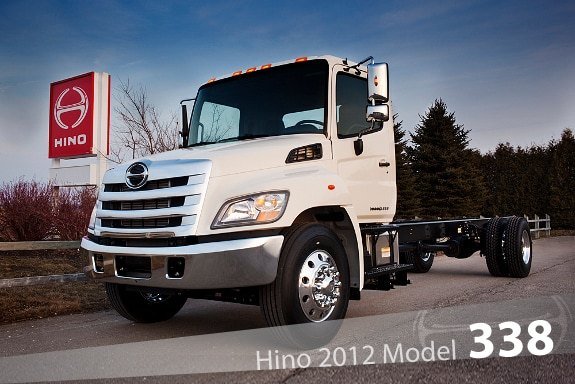 Our most popular Class 7 truck, the Hino 338 is strong, reliable and provides excellent fuel economy. For 2012, the 338 receives the "High Torque" J-series 7.6L engine, which provides 260 horsepower and 660 ft-lbs of torque. A 12,000 lb. front axle with a 21,000 lb. rear axle provides a GVW rating of 33,000 lbs. making the 338 ideal for a wide range of applications from general freight to specialized applications.
The Hino 338 is offered with an Eaton FS6406A manual or an Allison 2500RDS 6-speed automatic transmission both with PTO capability. Wheelbases from 187" to 271"* allow you to customize the Hino 338 to suit your needs. The Hino 338 is equipped with hydraulic disc brakes and ABS. Optional rear air suspension, combined with the superb maneuverability, excellent visibility and the many standard features for which Hino trucks are renowned, ensures that the 338 will continue to provide outstanding driver comfort.
Hino offers a "clean chassis" option for the 2012 338 model. For applications that require the outside of the frame rail to be clear behind the cab, the clean chassis is available. The clean chassis configuration is ideal for a beverage body, car carriers, street sweepers and battery carriers.
* Contact us for wheelbase availability for manual transmission.
Complete Specifications on the 2012 Hino 338 Class 7 at Hino Central in Edmonton
Note - By clicking the link above, a new window will open. Simply close the window to return to this page
Interested in a 2012 Hino 338?
Have questions?
Need more information?
Feel free to contact us toll-free 1-888-436-9822 or just fill in the form below and we'll get in touch with you.

Contact Us