2013 Hino Hybrid in Alberta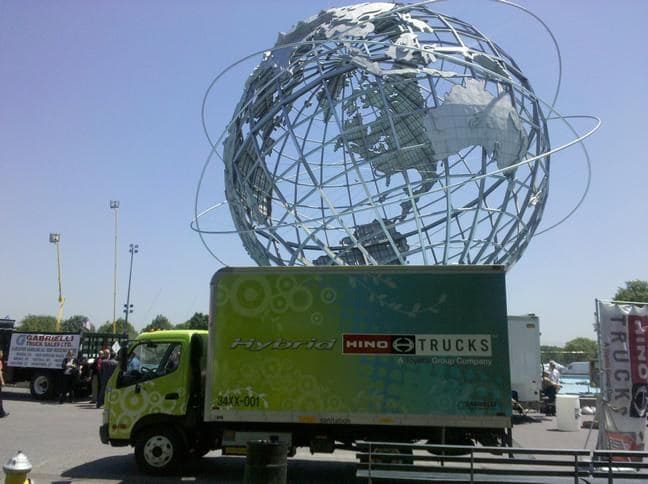 A truck that runs 20,000 miles per year and gets 12 mpg will use 1,667 gallons of fuel in a year. Over 5 years, the truck will use 8,335 gallons of fuel. At 22 lbs. of CO2 per gallon of fuel, 183,370 cedar trees are needed to absorb the CO2! A comparable hybrid at 30% better fuel economy will only use 141,020 cedar trees?42,350 less cedar trees!
| | |
| --- | --- |
| | |
| The Hino JO5E Series Diesel Engine produces 210 HP and 440 lb.-ft. torque - engineered to maximize performance and fuel economy. | The Aisin A465, 6 speed automatic transmission is standard on every new COE. Aisin is a leader in the industry with over 40 years experience in manufacturing durable, high quality transmissions. |
| | |
| Diesel-Electric Hybrid System Power Control Unit. The 195h features the world's first Hybrid Adaptive Control System that continuously communicates with the Engine Control Unit (ECU), to evaluate driving and road conditions, thereby optimizing fuel economy and performance. | Hybrid System Mode Indicator and ECO Drive Display. The System Mode Indicator and Drive Display keeps the driver informed of the hybrid system's operating mode and provides visual feedback (display turns green during optimized ECO driving) to encourage fuel-efficient driving and reduced emissions. |
| | |
| Ergonomically Designed Interior with Versatile Mobile Office Workspace. The standard folding center seat with seat back console serves as a work station desk top and the center console cup holders are designed to be used as an easily accessible clipboard/notebook holder. | A 30 gallon center mounted fuel tank is standard on all COE models (pictured above). A 33 gallon side mounted fuel tank is optional. |
| | |
| Selective Catalytic Reduction (SCR) Emissions Reduction System. Proprietary technology that lowers NOx emissions by more than 80%. | |
Have Questions?
Want More Information?
Call us toll-free 1-888-436-9822 or simply fill out the form below and we'll get in touch with you.
Contact Us